Entrepreneurship is the process of starting a business or other organization. The entrepreneur develops a business model, acquires the human and other required resources, and is fully responsible for its success or failure. Entrepreneurship operates within an entrepreneurship ecosystem.


"The only way to do great work is to love what you do".
–Steve Jobs

 
At Scope 4 Success we believe every person has the ability to create something new or add something of value to something that already exists. Similarly we believe in giving young people the skills to obtain jobs to provide for themselves and their families. We also believe it is a vital responsibility to help nurture creative minds and spirits.

Through this program you will gain the knowledge and expertise that will nurture your own ideas and make your ideas a reality. Through our program you will have a mentor that helps you through the process of what it takes to have an idea, and then turn that idea into a viable business by creating a strategy that will help you achieve your goals.
Growing up my family always pushed a wholly academic agenda however my love for sports was, and always will be, inextinguishable. My professional relationship with scope4success began in my final year of secondary school at Dulwich College, where Mike Speranza was hired to be the head basketball coach. Scope4success has mentored me on two different grounds: first of all in my athletic career and secondly Mike has continually instilled within me new entrepreneurial skills to build my business acumen at a young age.  
On the sporting front, Scope4success aided me in my attempts to attain an athletic scholarship to American Universities. The process was thorough and often tiring. Scope oversaw the process, ensuring that I was registered with the NCAA clearinghouse and helping me to create a recruiting video of me in action. Through Mike's attention to detail and unwavering work ethic, I was offered a place at New York University, one of the top 30 universities in the world. Unfortunately, as things so often go in life, I was unable to attend NYU, instead enrolling at Edinburgh University (one of the top 20 universities in the world).  
 Moreover, being a part of Scope's entrepreneurial program has provided me with new life and business skills that have come in constant use as I prepare to enter the working world after university. Soon after meeting Mike I was given the opportunity to have internship work at Scope4success, in which I was able to learn the 'ins and outs' of running a social enterprise whilst gaining valuable experience in the business world. Moreover Mike has nurtured my knowledge and creativity, giving me constant advice, which has led to the founding of a business that, along with my partner Terry Obeng, I will be launching soon.  
 Scope4success has continued to mentor me through my first term at university and has continued to forward both my athletic career, as I represent the university in football and basketball, and my business career through constant support and advice. Without scope4success and the work of Mike Speranza, there is no way I would be the person I am today.  
The Grind Company
The Grind Company presents: Drink Coffee Make Money. The Tshirt inspired by the grind. When your get up and go cup of joe just isn't enough, be inspired to fulfil your goals! 
Terry Obeng - Cabinet Office Policy Advisor & Founder of Born Winners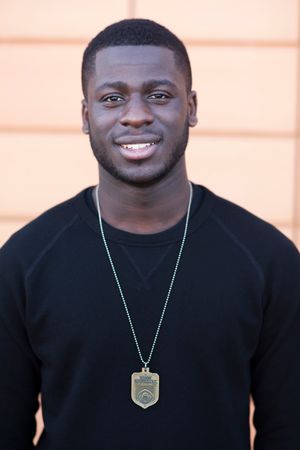 Profile

An individual who refuses to touch any endeavour unless it is with my absolute best effort. Both logical and creative, Terry revels in devising innovative ways to communicate with audiences of diverse ages and backgrounds. A strong believer in in the power of language to inspire and educate individuals whether it be through a written or spoken medium.

Employment History

Cabinet Office Policy advisor (September 2014 – present)

* Researching and collating of data on volunteering in the UK

* Presenting UK volunteers/nominees for the Points of Light Award to a Number 10

* Liaising with Number 10 press officials to draft press releases

* Writing and editing of press releases

* Building relationships with award winners, providing them with help and information

* Hosting and facilitating youth orientated workshops


Founder/CEO of BornWinners (January 2014 – present)

* A Social enterprise & networking agency for 16-18 year olds

* Planning of workshops and events

* Management of team

* Liaising with stakeholders


Voluntary History

National Citizen Service Ambassador & Advisor (November 2012 – present)

* Delivering presentations and workshops to young NCS leaders and speaking to NCS Providers at events

* Promoting the NCS via interviews on BBC news, radio and YouTube


Spoken - word Artist

* Creating a spoken word piece and video to promote STEM subjects to young students for the Your Life Campaign


Education

Dulwich College (2007–2014)

A level – History (A) English (A*) Economics (A)

IGCSEs – 4 A*'s (Maths, English Literature, English Language, History) and 3 A's (Biology, Chemistry, Physics)

GCSEs – 4 A's (French, Philosophy and Ethics, Italian, Design and Technology)
Background

Born in Dominica, raised in the UK, Kernisha has maintained strong culture and community links across both continents in order to provide a better environment for youths in the UK and Dominica alike.

Sporting Career

Kernisha started her sporting career when she was 15 taking part in five different sports and excelling in both basketball and Netball which she pursued at a National League level. Kernisha played for several teams Wandsworth sting (National League) East Side Heat (Local League) White Heat Women (Local League). She actively took part in coaching and leading the women's basketball team at Sir George Monoux College as well as basketball at the University of Kent's women's basketball team.

Kernisha holds the following qualifications in sport:

1. Basketball Coach Level 2

2. Tag Ruby level 2

3. Tabling official level 2

4. Child Protection Certified

5. First Aid at work (Full)

In 2008 Kernisha held the position as International Sports Development Coach for Scope4sucess, which involved setting up multi-sports camps on behalf of Scope4success. This role involved Kernisha going to four Caribbean Islands and running sports camps, all of which was fully funded by Scope and was backed by local authorities in Dominica, St.Lucia, Antigua and Guadeloupe.

Signed MK PR & Events

SignedMK Events is a company based in London, UK. It was established in 2008 and specialises in fashion and international events. We handle everything for an event form the advertising and PR to the website photography and recording. As well as the actual handling and organising. The founders of SignedMK are Maury Chasteau & Kernisha Daniel. Maury Chasteau has a degree in Public Relations and Events Management, whilst Kernisha Daniel has a degree in Law and extensive events and risk control experience.

They have over 10 years of events, PR and artist/model management between them. http://signedmk.wix.com/

KYC Analyst

My job is to contribute to the development of a best-in-industry Strategic Analysis capability within a Financial Intelligence Unit, enabling the bank to effectively detect strategic AML, security and fraud risks posed to the bank by its exposure to industries, jurisdictions and products.

I serve as a key point of accountability for strategic compliance research and analysis associated with the bank's activities in and exposure to global transactions, I provide significant strategic analytical overlay to basic research findings and large data sets as well as drawing upon specific country expertise to support research on financial crime, reputational and political issues. I also provide an input to aid ongoing development of the systems in use within FIU.

I oversee provision of timely and reliable intelligence on potential thematic issues of strategic AML, security and fraud import to the bank to improve risk management decisions within the lines of business, global strategy and potentially board level

Conducting in-depth Strategic Analysis research and analysis on industries and issues in regional and local level.

I conduct research and analytical findings to Country Head of FIU (SA) and senior LOB/Global Strategy stakeholders, I maintain multiple enquiries at any one time, often under considerable deadline pressure.

Other services

Legal and Compliance Management

I currently hold extensive knowledge in legal Compliance and Risk Management this involves complex processes, rules, tools and systems used by corporate legal departments to adopt, implement and monitor an integrated approach to business problems.