Theo Ola -  Professional Footballer at Mjallby FC
First Name: Theo

Last Name: Ola

Nationality: British

Date of Birth: 02-07-93

Place of Birth: London

Position: Winger/ Attacking Mid
Theo Ola is a wonderful, naturally gifted winger/attacking midfielder who displays fantastic skill and vision. When played in an attacking three out wide or in the space behind a lone striker, which seem to be his preferred roles, he is deadly, picking apart the defence with well-timed through-balls and lightning-quick runs into the penalty area. He boasts great intelligence and understanding, both with and without the ball. 

His frame also works to his advantage, allowing him to twist and turn around players far larger than himself with relative ease, and he is also able to use his body shape and strength to muscle into defensive gaps that others are unable to craft out. Combine this with his pace and trickery and you have got a world-class midfielder in the making.



2014/2015 Season So Far



August 2014
H

Sat 30th, 3:00pm

Cup

2 - 0

W

Match Centre »
 

Sub On '25

 Sub On ('25)

Goal '45

 Goal ('45)

 
H

Mon 10th, 7:45pm

League

1 - 0

W

Match Centre »

A

Tue 18th, 7:45pm

League

2 - 2

D

Match Centre »
 

Sub Off '79

 Sub Off ('79)

 

A

Sat 22nd, 3:00pm

League

4 - 1

L

Match Centre »
 

Sub Off '72

 Sub Off ('72)

Assist '49

 Assist ('49)

 

H

Sat 29th, 3:00pm

League

3 - 1

W

Match Centre »
 

Sub Off '72

 Sub Off ('72)

Goal '30

 Goal ('30)

 
A

Sat 7th, 3:00pm

League

0 - 2

W

Match Centre »
 

Sub Off '75

 Sub Off ('75)

 



Josh Proctor - Ex Dulwich College and Current University of Edinburgh Student (Football and Basketball)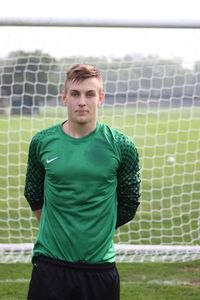 For the past five years the Dulwich programme has been building momentum towards becoming an undeniable powerhouse in private school basketball. Whilst at times the journey has been rough and the quest to place Dulwich basketball within the pantheon of great schools difficult, this year has truly been a defining one. This season's crop of Year 13 veterans have, since winning only one game in their rookie season, become a perfect example of what Dulwich basketball has come to represent. Having dominated at U16 level but yet falling short as understudies in our first of two years at U18 level, this year was most certainly defined by a pursuit to be the first Dulwich Senior team to win the LISBA championship in over seven years. Lower down in the College, the vastly impressive U16 squad who for two years had dominated the private school circuit looked to retain their title, whilst both U14 and U15 squads hoped to have success at age groups that would be a first for the College. With lofty dreams of unparalleled victory, we set ourselves the goal of reaching the LISBA finals in March in every age group. 
With the pain and heartbreak of losing in the LISBA finals only four months previously fresh in our minds, the U18 squad assembled, along with boys from Years 9-11, for preseason training in September. Perhaps the biggest shock of our season, however, was learning that Clive Sinclair, our stoic Head Coach, would not be with us for the first few months of the year. Nevertheless, our nerves were steadied as we were introduced to Mike Speranza, who was to be our new coach while Clive was away. Coach Mike began preseason training with a high level of intensity and preached the importance of focus and determination in order to have success at every age group, coining what would become the Dulwich basketball motto for the season: 'Work Hard, Stay Humble'. With this in mind we were all ready for the long season ahead. 

The Under 14 season is usually an important time for the development of basic fundamentals and perhaps not the achievement of victories. However Coach Mike impressed upon every age group the importance of programme-wide success. Led by the extremely talented duo of Phillip Cloud and Michael Yu, the U14s exceeded all expectations, finishing third in the LISBA finals and winning an impressive five games out of nine. 

Having not won a single game as U14s, this year's U15 squad looked to improve their record through hard work and commitment. Led by outstanding small-forward Freddie Mack, talented big man Jack Curtulus, and young stars Phillip Cloud, Michael Yu and Chris Ho (all playing a year up), the U15s made it to the LISBA finals with a fantastic 6-2 record. After confidently dispatching their opponents in the semi-final, Dulwich U15s met a City of London squad in the final that proved to be just too powerful. Having had the opportunity to assist in the coaching of this U15 squad last year, it is clear to me that their unrivalled work ethic was what led them to an impressive second place finish. 

I simply do not have the words in my vocabulary to describe the powerhouse that this year's U16 squad has become. Led by the big-man tandem of Captain Sebastian Pauwels and Theo Schlossman, it was clear that this team would be simply too powerful for all of their opponents. They capped off the regular season in style, finishing undefeated in LISBA and reaching the London Regional Finals of the National Cup. The squad's strength in depth became extremely apparent in the LISBA finals with outstanding guard play from Joe Weisberg and Omar Nasir leading their already talented frontcourt to victory and a third successive LISBA championship for this group. 

Having joined the Dulwich basketball programme five years ago, in Year 8, for me this year was the culmination of all the hard work that we had put in over the years. For the Year 13s Taylor Yu, Josh Igboegwu, Nelson Yao, Terry Obeng and I, this was our chance to finish our Dulwich careers in style and to be remembered as one of the greatest Dulwich squads in recent memory. With unrivalled commitment and an onslaught of 7am training sessions the squad was perfectly placed to dominate the LISBA league. Our high octane, fast tempo style, prove to be too much for many of our opponents with the starting five of myself, Andy Wang, Yi Chun Tu, Sebastian Pauwels and Theo Schlossman and myself often able to impose hefty leads in the early stages of matches and the bench units led by Taylor Yu's pinpoint three point accuracy and the suffocating defence of Ibrahim Ibrahim and Terry Obeng, able to cement the victories. This season was particularly intense as we also entered the National Competition. Losing only one game in the group stages to the basketball academy at perennial powerhouse Harris Beckenham, we managed to reach the last 16 in the country before being defeated by a highly talented Greig City Academy. Having learnt so much by competing at the National Level we managed to run through the LISBA regular season undefeated in the league, notably beating our bitter rivals Alleyns both home and away. Just prior to the LISBA finals we travelled south to defend our title as Epsom College Tournament Champions. As a warm-up to LISBA finals several players sat out to rest and nurse injuries. However a young squad that even contained a Year 9 player, Michael Yu, emerged victorious, successfully retaining our Championship. 

The beginning of March was punctuated by the LISBA finals. This was what we had been preparing all year for. Boosted by the return of Coach Clive we knew we were ready. After swiftly dispatching KCS Wimbledon in our semi-final we were faced with our old foe Alleyns in the final. In what proved to be an extremely exciting game Dulwich College emerged victorious after I sunk a three pointer with less than a minute left on the clock. Lifting the LISBA Championship for the final time is a moment I will never forget and the feeling of success shared with my teammates was perhaps the best moment of my school career.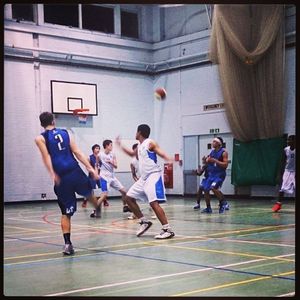 Overall this season was one of resounding success for the Dulwich basketball programme. The U18 team not only obtained the LISBA championship for the first time in many years but also had a 20-3 record which was the best winning percentage out of any 1st team for any sport at the College, whilst every age group managed to reach their respective LISBA Finals. Many thanks have to go to Mr Burdekin, and also to both Coach Clive and Coach Mike, without whom we would not have had the outstanding success that we had this year. I hope next year will eclipse the successes of this year and I thoroughly look forward to returning next year to see the progress made. 
Michael Ogboin - Professional Football and Nike Ambassador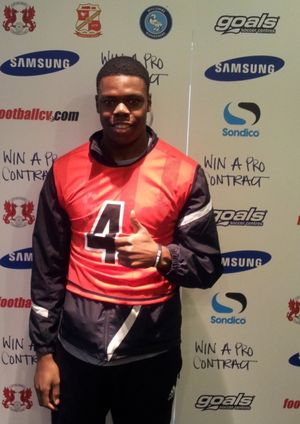 First Name:
Michael

Last Name: Ogboin

Date of Birth: 10/08/1993

Height: 6'4

Nationality: British

Place of Birth: London

Position: Striker